Thank you for contacting Enviable Exteriors, a representative will contact you shortly.
Awning Windows
Awning windows are hinged at the top and designed to open outward with the turn of a handle, providing additional ventilation and light. Use them in combination with stationary windows to create a beautiful focal point.
Go Back
Available Colors Styles and Patterns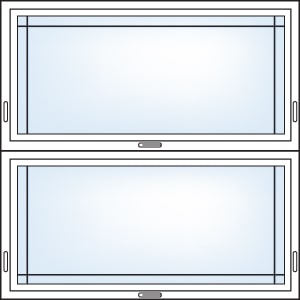 What are the key benefits of awning windows?
---
Awning windows are easy to open with the crank of a handle and fit in tight, hard to reach places. They fit perfectly, for example, above a shower, bath tub, behind a kitchen sink, or in a basement or attic to provide needed ventilation. Since awning windows open outward and upward, they can even be opened during a light rain shower.

What home style is best suited for awning windows
---
Awning windows are suited for almost any traditional and modern American home including: cape cods, mid century modern, colonials, victorians, craftsman homes, ranch homes, cottages, farmhouses, or Tudors. Depending on the style of your home, consider a grille pattern for your awning windows which would give them an added custom touch and the opportunity to completely transform your homes curb appeal.

How can I customize my awning replacement windows?
---
Our replacement awning windows can be customized to complement your homes design. We offer custom sizes to fit nearly any existing opening. Choose from a variety of interior and exterior colors to match your homes decor. We offer a variety of hardware finishes and grille styles and patterns to add the finishing touch to your replacement awning windows. Choose from a variety of glass packages designed to enhance your windows performance in the following areas: energy efficiency, noise reduction and privacy. Our StormBreaker Plus collection features awning windows that are tested and approved for impact protection in hurricane-prone areas.

Why choose vinyl awning windows?
---
Vinyl awning windows are a durable, energy efficient option for your home. Vinyl is resistant to damage from moisture and insects, making it a low-maintenance choice. It's also a great insulator which helps keep your home comfortable in every season. Our energy efficient vinyl awning windows can help save you money on heating and cooling costs. Enjoy peace of mind with our industry-leading warranty.